2D Image Tool for Laser Beam Analyzer
2D Image tool is designed for 2D visualization of laser beam images.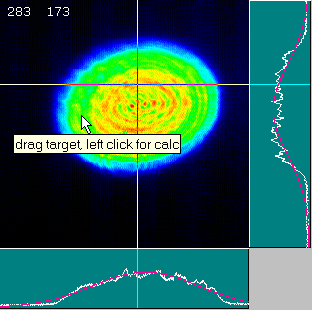 Two subwindows on down and right portions of the 2D image tool are the profiles of laser beam at the target X,Y position. The are aimed for fast profile visualization. Detailed Profile is visualized with CutView Tool.
Target position is changed by Mouse Drag within or Left Mouse click within 2D image
3D Slicers are interlocked with target (automatically follow the target X,Y position)
Form is autoresized and and positioned. Last applied size and position is saved for the next use.
Right Mouse Click within 2D image brings submenus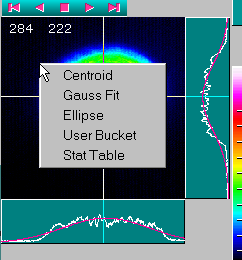 see description of submenus...>
User bucket tool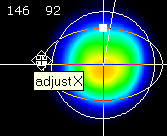 Drag markers to adjust the User Bucket. Power within the bucket is calculated.
3D Laser Beam Profiler Help
Advanced 3D Graphics

-------------------------------------------------------------
Copyright © 2003-2013 ScienceGL, Inc.