LIVE POWER Tool in Laser Beam Analysing Software
Live Power Plot is designed to show the facility of the software to analyze laser beam parameters in Live mode. The parameter is calculated from each image acquired and it is shown as live updated 2D plot (i.e. Power vs. Time for example). In Figure below we show example of live laser power measurement 100 measurements during about 10 second. Noise of about 20 um (2%) is clearly seen.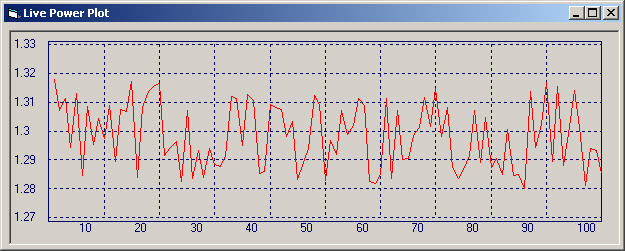 We note that any parameter can be visualized "Live".
Contact ScienceGL to obtain necessary Live Parameter windows.
To initialize the Power Live Plot check <live power> in View Menu.
3D Laser Beam Profiler Help
Advanced 3D Graphics

-------------------------------------------------------------
Copyright © 2003-2013 ScienceGL, Inc.