Registration help
IMPORTANT:
The Software code is unique for each PC.
PLEASE BE SURE THAT THE CODE YOU SEND FOR REGISTRATION IS GENERATED
ON PC THAT WILL BE USED WITH 3D ILWIS SOFTWARE IN THE FUTURE!!!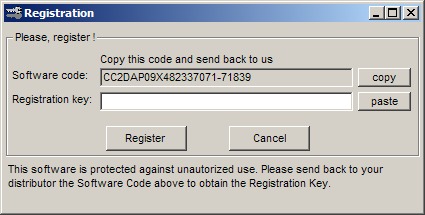 STEPS
1. Copy the Software code (see hints below)
2. Send the Software code to ScienceGL
3. Obtain the Registration key
4. Paste the Registration key into registration form
5. Press "REGISTER" button

You can copy and past the text within "Software code" and "Registration key" text boxes. You can also press <COPY> button to pass software code to clipboard.
You can use right mouse click to paste Registration key into text box, just as if you use text processing program like Word. You can also click into "Registration key" field and paste by <Ctrl-V>.

3D Laser Beam Profiler Help
Advanced 3D Graphics

-------------------------------------------------------------
Copyright © 2003-2013 ScienceGL, Inc.